My new email address is
mattfreemanrace@yahoo.com
Ryder
is now mobile. He found his crawling legs this weekend & as he perfects his new skill, I'm quite positve rest & relaxation will be thrown out the window for
Denise
& I. Not that she's been able to rest or relax much lately. The little dude also took his first trip in the jogger stroller on Saturday & again on Sunday. He loves it, which means Denise may be logging miles again soon.
Speaking of miles, I guess you can say I began real base training this weekend. I did 85 miles on Saturday & 77 on Sunday. Both days were followed by four hours of working on the patio cover, so falling asleep that night wasn't an issue.
Sunday's ride was a good old fashion death march due to a headwind going up San Tim. To make it worse, I cooked myself trying to get home by 11:30 to start work on the patio cover. San Tim was my idea so I caught a ration of shite from everyone on the ride as soon as we turned into the headwind. Obviously no one present attends church on Sunday morning, so the way I look at it is - all the suffering helps pay for our sins. Only 9 of us completely cleansed our souls. Me,
Turner, Trevor, Frank, Andy, Chris Hoyt, Zuke, J-Ro & Junior Josh
are forgiven. Many others turned around half way up the canyon & many more called it a day once reaching the top of the canyon. I felt quite crappy afterward for a measly 77-miler, which means there's much work to be done.
Team K&N Performance
More details later, but that is the banner I'll be racing mountain bikes under in 0h-6. The team is made up of myself,
Josh Underwood, James Williams, Loren Dodson & Christie Pleiss
, with special appearances from
Greg Johnson
. We're currently accepting more sponsors so if you or someone else you know wants logo space on our team kit, let me know.
More details to follow...
The Rest from SEMA

After wondering around the Hilton looking for something to do, we ended up at New York, New York & to my pleasant surprise found an Irish pub. The band, whose name escapes me played some Irish classics as well as some current stuff. I was impressed.



In between sets, we walked over to a piano bar, but the place wasn't worthy of photos. Actually it was pretty good, but nothing compared to the pub experience.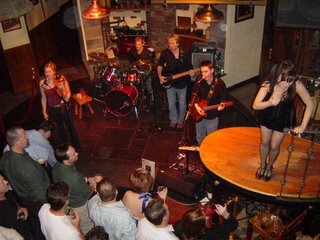 Contrary to popular believe, Vegas does sleep. The place shut down at 2 a.m.
Wednesday Night Ride
It's still on. See you Wednesday night at my place. We roll between 6:15 & 6:30.