On Friday, my sister & Joey had a baby by the name of Destry Joseph Lanza. I like Joey's shirt.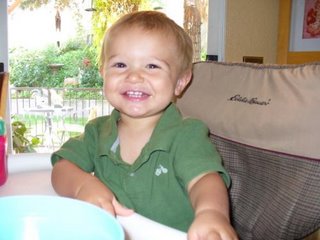 Ryder is very happy to have a new cousin.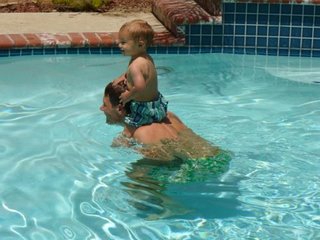 Soon, Ryder & I will be doing this...

... here.
Well, we did it.
Trevor, Josh, Christie, Joy
& I ventured to the
town
that Redford built to race our bikes. The outcome is/was mixed, depending on who you ask, how you look at it & what you believe. Having recently suffered a 2-week
sinus infection
, the cards, which are already stacked against me, were stacked against me, this time in a Pinochle deck. A lap-and-a-half into the 4-lap massacre, I sat up (again) & called it a day (if not a season), yet kept riding my bike at a
pre-ride pace
. The number of
broken souls
scattered throughout the mostly single-track race course became greater around every bend & confirmed that just finishing this one was somewhat of an
achievement
– even if it meant doing it at a snail's pace. Now, I can sit here & write all kinds of excuses on why I just couldn't buck up & suffer through the pain & discomfort, & why I finished 67 of 84 (those behind me were mostly DNFs), but I won't. My Pro-class peer,
Nick Martin
sums it up best…
"If you have had the privilege to race in a Pro XC you know how crazy it is to break through the top 20.... It has taken me two full seasons to finally make the jump. If you hestitate for one moment or start to show any sign of weakness, there are 5 guys waiting to blow by you and take your spot. Everything has to click..."

Things bike related haven't clicked much at all this year & they weren't about to start on Saturday. As I sat in the Deer Valley
First-Aid tent
being treated for what may or may not have
flown up my nose
on my fourth & final lap, all I could think about was Ryder & how all this suffering just doesn't do the trick for me anymore. Maybe it's A.D.D., but the next thought that popped into my head was, getting my bike ready for Sunday's Short Track. Seconds later – I was wondering what Ryder was doing at that very moment. And then
it
clicked.
It
, being the final latch on bike case that
Johnson
had lent me for the Park City trip. By 9:00 AM on Sunday morning, my bike was packed & I was officially a NORBA Nat'l spectator. The
Canuck
sure stuck it to 'em on Sunday & I watched it from the sidelines. I would have been a spectator anyway because everyone, but the top 8 got pulled – making over 75-percent of the Pro Men's field a
spectator
, but that's Short Track racing for you.
I could go on & on about how many times my race schedule has changed since Saturday, but I won't, because it will change many times - just in the time it takes you to read this self absorbing blog. Sulking aside – let's talk about the non-race-related stuff that went on around NORBA number 4.
Remember when a family could pack up everything but the kitchen sink in a minivan for a weekend away? Those days are gone apparently. The affects of big government beared its ugly head on the fit, form & function of the minivan. Upon our arrival at the SLC Advantage Rent-A-Car desk, the bleached blond behind the counter informed me that a Dodge Carravan wouldn't be big enough for 4 bikes & bodies. She suggested a Durango & I said, nay, insisting a Durango wasn't any bigger than a Carravan. We tried to sell me on stow-and go seating & after 10 minutes of trying to cram 4 bike cases, 8 bags & 4 humans into the thing I celebrated my one & only victory of the weekend. We up-graded to a Suburban & spacious as it was, it was still a tight fit. The thing was dope though, in every sense of the word, & so we rolled-deep through Park City for a weekend.
Speaking of our Suburban… wait, I'll let
Christie
tell this story.
For what space we lacked in our rental car, we more than made up for in our condo. It was huge: 2 stories, 2 bedrooms, 4 beds, 3 sofa beds, an infinate amount of closets, 3 bathrooms & one fridge that didn't work. I wasted a pint of Ben & Jerry's, but that was a small price to pay for such a big pad. Oh, the best part, we got to watch
OLN
all weekend, which meant watching other people (other than myself), who just
couldn't deliver
.
The spacious condo & its bunk fridge (pictured on the other side of Trevor's bald head).
Delta, Delta, Delta, can I screw you, screw you, screw you? As in charging us each 100 bucks to ship our bikes from SLC back to Ontario. Did they charge the fat-ass in the row behind me $100 extra so he could over-flow into seats A & C? I'm sorry, but my bike & case only weighed 48 pounds & I saw a few passengers that were carrying that much extra weight in their mid-section. I bet they had to upgrade from a minivan to a Suburban too.

Of course, blood doping, EPO, steroids & the frequency of drug testing was a big topic of conversation over the weekend & interestingly enough Todd Wells, who was absent from Park City, had this to say on his website the other day:

"This morning Winston was running around the room crazy so I decided to let
him out. Once he got out there he started barking like crazy. I ignored it for a
little while but then I decided to see what all the noise was about. USADA was
waiting at the front door to watch me pee in a cup. Usually they don't come that
early but today they came early. It's good when they come early b/c you have to
pee right away but it sucks waking up that early."

Yeah, Todd, that really sucks. My dog wakes me up early in the morning all the time, but unfortunately it's I can watch her pee in the yard. It's never because the USADA is waiting at my front door to watch me pee in a cup because I'm a big-time factory Pro bike racer & get to travel the world on someone else's dime.


There's many more stories to tell from Park City, but I gotta go rearrange my race schedule & rebuild my bike so it's ready for the next physical & emotional beating.